About the Program
Leadership Fond du Lac is a community-based program that provides information and experience to individuals willing to make a lasting commitment of service to the city and county of Fond du Lac.
Mission: to assist in the preparation of a strong, diverse group of leaders qualified to represent our communities and willing to make responsible decisions affecting both the public and private sectors.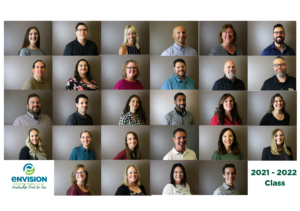 Qualified applicants begin the nine-month program in September with a two-day retreat. Right away, the class starts on team building skills, and discusses how they can have an impact on the community through their group project. The class meets once a month to learn more about the community, its unique challenges and strengths, through presentations, role playing, tours and other activities. Classes prepare the leaders to fill roles that will contribute to a healthier, more vital community for many years to come.
Leadership Fond du Lac participants are a diverse group of individuals from all sectors of the business community, with big titles or no title at all. They share one thing in common: a desire and willingness to commit to serving their community and a dedication to the power of teamwork.
2022-2023 Class Application Information
The 2022-2023 class will start in September 2022. Apply today!
Topics of Focus:
Team Building
Fond du Lac County History
State and Local Government
How to Run for Public Office
Human Services / Social Issues
Health Care
Education
Business / Economic Development
Art in the Community
Media
Boardsmanship
Community Resources
Since the program's inception, over $600,000 worth of Leadership Fond du Lac projects have benefited our community. As part of the Leadership Fond du Lac program class members gain experience in team building, community problem solving and issue resolution, while at the same time making a significant contribution to the quality of life in the greater Fond du Lac area. The process of working as a team is as important as the finished project. Follow the link below to access the Community Project Guide – which lists past projects and team members.
Leadership Fond du Lac Community Project Guide (coming soon)
Leadership Fond du Lac participants are often called upon as community volunteers. Follow the link below to access the Resource Guide – which lists contact information for all past participants as well as their areas of interest and expertise.
Leadership Fond du Lac Project Guide 2020