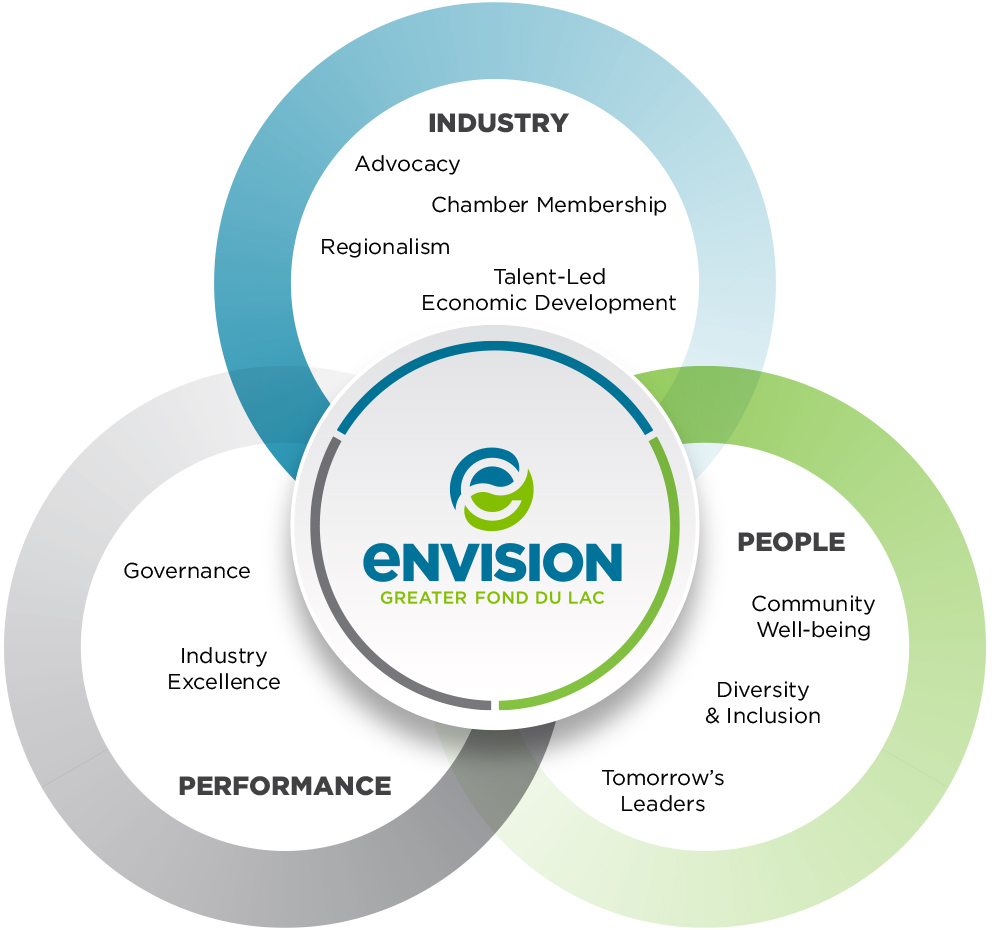 As we work to awaken greater economic opportunity, our leadership has identified nine strategic priorities that will drive our efforts. As we continue to develop each of these priorities in our 2019-2021 strategic plan, we'll share more details on why each of these areas is important to our region's success as well as how we are measuring our efforts.
Theme: Industry
Advocacy: We will strive to be the single, solid voice of the business community to facilitate conversations related to legislative and industry needs at the local, state and federal levels.
Chamber Membership: We will provide world-class, customized services to help our members meet the challenges and seize opportunities available in the local, regional and global economies while demonstrating the value of belonging to our organization.
Regionalism: We will promote the future economic success of Fond du Lac County and the surrounding region by adding value as a thought leader and meaningful partner in initiatives and conversations with other organizations with regional interests.
Talent-led Economic Development: We will support the successful addition of new businesses and expansion of existing businesses through the lens of talent attraction and retention to facilitate meaningful economic growth for the region.
Theme: People
Community Well-being: We will increase workforce productivity and community competitiveness as the vessel that engages the business community in initiatives that address the various facets of community well-being.
Diversity & Inclusion: We will increase community competitiveness and quality of life as the vessel that engages the business community in initiatives that promote cultural competency, diversity and inclusion.
Tomorrow's Leaders: We will be a positive change agent for the community through the identification and cultivation of individuals with the potential for catalytic leadership in various roles.
Theme: Performance
Governance: We will foster an organizational structure that engages business leaders in the advancement of our mission and demonstrates transparent, responsible use of the resources entrusted to us.
Industry Excellence: We will strive to be a catalytic thought leader and example of excellence in the chamber of commerce and economic development industries.
View the 2019 Annual Report.