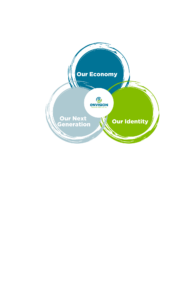 The future is bright. The stage is set for growth, development, and prosperity. Envision Greater Fond du Lac is positioned to do extraordinary things. Through community engagement and concentrated efforts, Envision Greater Fond du Lac will improve economic vibrancy, strengthen community identity, and invest in the next generation. Over the next 2 years, the strategic focus will be on:
Our Economy
Increase awareness and utilization of Envision Greater Fond du Lac resources for small and mid-size businesses.

Support start up businesses and create an entrepreneurship ecosystem by leveraging the IGNITE network.
Our Identity
Support the successful execution of the Lakeside Park Alternative Master Plan.

Better integrate new community members.
Our Next Generation
Drive greater awareness for youth of opportunities within Fond du Lac County.

Increase the number of young adults moving back to Fond du Lac County.
Program Optimization
Align resources to optimize dollars and staff to support.
View the 2022-2025 Strategic Plan
View the 2020-2021 Strategic Plan
View the 2020-2021 Strategic Plan Outcomes
View the 2022 Annual Report
View the 2021 Annual Meeting Recording
View the 2021 Business Retention & Expansion Report