YPF honors outstanding professionals, naming Kaitlyn Kenealy as Young Professional of the Year
Young Professionals of Fond du Lac (YPF), a program of Envision Greater Fond du Lac, was proud to host its ninth annual Future 5 Awards on Thursday, January 20, 2022, recognizing five up-and-coming young professionals who embody the spirit of YPF and embrace Fond du Lac both professionally and personally. YPF was honored to announce Kaitlyn Kenealy of Kenealy Counseling as the YP of the Year for 2021.
Committed to bringing mental health awareness to the Fond du Lac community, Kenealy spreads her important message across a variety of platforms, including her private practice, podcast, newsletter, and her upcoming book. To further create awareness surrounding mental health, she co-chairs both the Suicide Prevention Committee and Mental Health Access Committee. Additionally, Kenealy facilitates mental health training and workshops and serves as an executive contributor for Brainz Magazine.
"Kaitlyn exemplifies what we look for in a YP of the Year," Crystal Dekker, Director of Young Professional of Fond du Lac, said. "She is committed to her profession and her community – spearheading efforts to bring mental health support to those who need it most."
 In addition to Kenealy, Joe Fenrick of Fond du Lac Public Schools, Jackie Runge of South Hills Golf & Country Club, Hannah Scherer of Michels Corp., and Jason Zellner of First Weber/Winfield Homes were named as this year's Future 5 recipients. Each recipient was honored at the ceremony on Thursday and were joined by other Future 5 nominees, family, and friends.
 "Even beyond our Future 5, this event is a reflection of all the amazing work our professional community has banded together to accomplish," Pam Tollefson, 2021 Chair of Young Professional of Fond du Lac, said. "Last year was an amazing year, and we can't wait to see what 2022 has in store."
 YPF also extends a special thank you to the sponsors who made the event possible: Grande Cheese – Presenting Sponsor; Wisconsin Lighting Lab, Inc. (WiLL) – Media Sponsor; EP-Direct – Program Sponsor; Wood's Floral & Gifts – Floral Sponsor; Eden Meat Market – Food Sponsor; and Record Entertainment DJ Service & Photobooths – Entertainment Sponsor.
 For more information on the Young Professionals of Fond du Lac, please visit envisiongreaterfdl.com/ypf/. For more information on Envision Greater Fond du Lac, please visit envisiongreaterfdl.com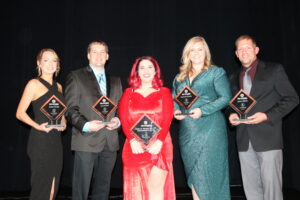 Future 5 Winners (L-R) Jackie Runge, Joe Fenrick, Kaitlyn Kenealy (also named YP of the Year), Hannah Scherer, Jason Zellner