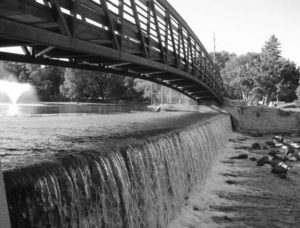 You'll find Waupun nestled on the southern branch of the Rock River.  Small town charm and a strong sense of community abound in this city of just over 11,000 people.  Founded in 1839 by Seymour Wilcox, the first settler along the Rock River, the name Waupun comes from the Ojibwe word "Waubun" which means "dawn of day."  The "b" became a "p" when the City's name was commissioned in 1840 and a spelling error was made.  Today the area is known for its rich agricultural land, expanding industrial presence, commitment to quality schools, and an array of outdoor recreational opportunities that include the northern access points of the Horicon Marsh National Wildlife Refuge.
Known as the City of Sculpture, Waupun is home to one of the largest collections of outdoor sculptures per capita in the United States.  The collection includes the world-renown End of the Trail sculpture by James Earl Frasier that depicts the plight of Native Americans.  Regular live events bring both music and theatre venues to Waupun's Historic City Hall Auditorium, a building known for its old-world charm and incredible acoustics.
Waupun is centrally located along the US 151 corridor and is within a one-hour drive of Madison, Milwaukee and the Fox Cities.  State Highways 26 and 49 run through the community and provide quick access to the I-41 corridor.  The community is positioned for growth with availability of industrial, residential and commercial properties for development.  The Waupun Industrial Park has rail accessibility serviced by Wisconsin & Southern Railroad.  Several Tax Increment Districts are in place to support development opportunities and the community has active CDA and BID boards that support projects like the historic preservation of Waupun's Downtown Business District.
For each of us, the dawn of day represents a fresh start.  With a commitment to quality schools, a growing fine arts community, outdoor recreation opportunities, investments in infrastructure, and a business-friendly approach, the City of Waupun means opportunity for you.
Downtown Waupun
The community's Downtown Business District is being revitalized with an ongoing commitment to historic preservation, programming to support business improvement, and expanding resources designed to help entrepreneurs.  With an expanding arts community, investments in youth sports facilities, close proximity to the Horicon National Wildlife Refuge and planned year-round festivals and events, both residents and visitors alike are attracted to this community to live, work and play.  Downtown Waupun is easily accessible with State Highway 49 running through the heart of the community.  Additionally, US 151 and State Highway 26 provide easy access to the Downtown Business District.
Population: 11,344 (source: 2020 Census)
Helpful Resources: