Fairwater
Partner Community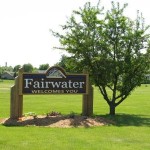 The Village of Fairwater was founded around the water power of the Grand River in 1848, and the serene mill pond still centers this picturesque and friendly community. This agriculturally based village is moving forward with a focus on small business and entrepreneurial ventures.
Population: 359 (source: ESRI)
Helpful Resources:
Join us - we'd love to meet you!
We appreciate the many people who make our businesses and community a great place to live, work and play. We'd love to meet you at one of our upcoming events and celebrate the great things happening in our community. Check out our event calendar to see our upcoming events. We hope to see you soon!