VIRTUAL PRESENTATION: Vinegar, Honey, & Change: Communication Imperatives for Leaders
May 21 @ 8:00 am

-

9:30 am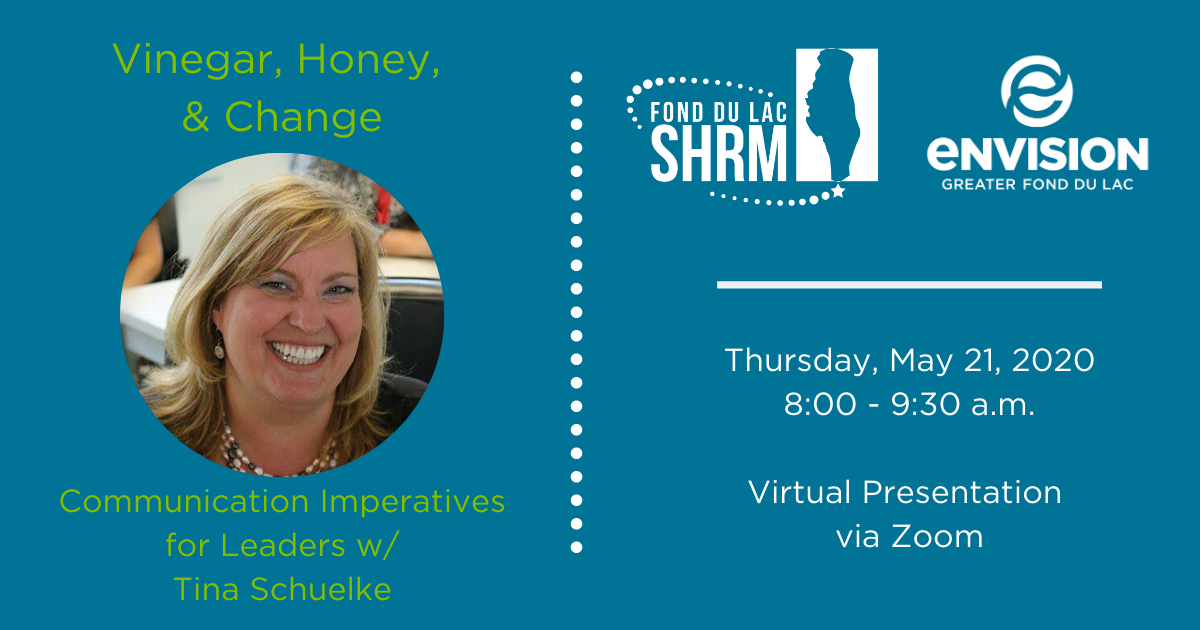 Explore the effect that our communications have on our productivity, innovation, commitment, accountability, collaboration, and problem-solving.
Learn about:
• Preferred senders for audiences
• Situational communication
• Communication planning and strategy
• Framework to assess and re-assess change and communications
About the Presenter
Tina Schueke owns and operates a national consulting firm that works globally:  Change Management Communications Center is headquartered in Oshkosh, WI, with offices in Chicago, IL and Denver, CO.  Her purpose is to challenge the way companies manage change, and to dramatically impact the way companies evolve, adapt and expand. Fast.
Tina's 30+ years of education and career experiences have been transformational.  It's no longer "managing change" for her.  Instead, it's leadership, resolving redundancies, strengthening assets, and elevating an organization from "us and them" to "we and how."  It's how organizations she works with go from teams at odds with one another to a place where each and every individual is maximized, not minimized.
Work with Tina to create a culture where your team is empowered and not overpowered. Served and not merely herded.  We're talking about a new way to elevate personnel.
Listen in!  Tina hosts Never Stop Conquering, a podcast known for untangling the thing that's probably getting in your way.  Tina's guests are Business Owners, Executives, Celebrities, and Influencers – who share their best stuff because they never stop conquering. Guests are not just "good idea fairies," in every podcast, we're giving you steps to take so you, too, can achieve what nobody thinks is possible.
When Tina is not disrupting complacency, she enjoys time with family, being a grandma, traveling with her husband, and finding new beaches to explore.
Register Now!
Location: Virtually, via Zoom
Time: 8:00 a.m. – 9:30 a.m.
Cost: $10 general admission; FREE FDL SHRM members
Related Events