by: Jim Cleveland, Director of Outreach & Client Services, Envision Greater Fond du Lac
Is recruitment and retention of quality employees on the top of your to do list?  If so, you and your company are not alone.  In fact, most companies in the greater Fond du Lac area and Northeast Wisconsin report a shortage of talent to fill critical positions that will support current operations and expansion.  Envision Greater Fond du Lac's Manufacturing, Innovation and Technology Group (MIT) recognizes this critical issue and is providing programming to assist companies in navigating the talent dilemma.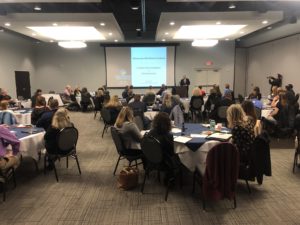 On May 7, 2019, Envision Greater Fond du Lac joined forces with the Greater Oshkosh Economic Development Corporation to host a south Fox Valley event titled Creative Hiring Strategies.  Our organizations recognize that we need to work together to foster a greater understanding with the region of why the I-41 Corridor is an economic region for both of our communities.  Additionally, we agree that there is a shared need for comprehensive regional talent initiatives for attraction and retention.
To set up this discussion, we must first look at the cost of turnover within our companies.  Did you know that about 20% of employees leave within their first 45 days of employment?  Recruitment is just the first step.  We must also look at retention and what can be done to keep employees.  The cost to companies of this turnover is unmistakable.  Consider some facts as reported by Americanprogress.org and SHRM.
Average cost of replacing an employee is 16% of annual salary for high-turnover, low paying jobs.
Companies that invest in developing their people are 30% more profitable than those that do not.
Companies that promote from within see 18-20% productivity gains over those that do not.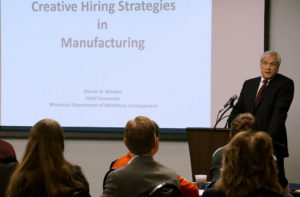 After looking at these statistics provided by Jo Ann Hall, Dean of Economic and Workforce Development at Moraine Park Technical College, attendees heard from Dennis Winters, Chief Economist for the Wisconsin Department of Workforce Development.  Mr. Winters gave an overview of the south Fox Valley as well as the State of Wisconsin that truly is eye-opening.  Unemployment in the State is at historic lows not seen since 1999.   Currently, the greater Fond du Lac area sits at 2.8% as compared to 3.3% across Wisconsin.  Of note to attendees was a graph that indicates that the number of job openings is outpacing the number of hires and the gap widened significantly in 2018.  Further evidence that the pool of talent is scarce and retention efforts need to be heightened.  For Mr. Winters' entire presentation, please click here.
Lastly the group of Fond du Lac and Winnebago County employers present heard from some of the leading companies in a thought-provoking panel discussion that allowed for attendees to engage with some of their own questions.  Panelists were led by Ann Franz, Executive Director, Northeast Wisconsin Manufacturing Alliance in discussing employee challenges and what creative steps are being taken to address them.  Participating in the discussion were:  Melissa Ryan, Vice President of Human Resources, Sadoff Iron & Metal; Brandon Bonfiglio, Program Manager – Manufacturing Talent Development, Oshkosh Corporation;  Mary Ann Kirry, Benefits & Human Resources Manager, FIVES Machining Systems, Inc.; and Melissa Epprecht, Talent Management Associate, Badger Mining Corporation.
MIT, is a committee of Envision Greater Fond du Lac that is comprised of local, senior level manufacturing executives and company owners focused on increasing awareness of capabilities located in our area as well as promoting a greater cooperation between companies to solve problems in manufacturing.  This group aims to accomplish these goals by bringing the manufacturing community together to tour local companies, hear timely programming that is targeted to their needs, and promote trust and understanding of capabilities through networking opportunities. For more information, please contact Jim Cleveland at (920) 921-9500 or jcleveland@envisiongreaterfdl.com.