For a printable version of this information, click here.
The impact of economic development is strongest when there is partnership and support from both the private and public sectors. Thank you to the private businesses and public partners that have invested in efforts for believing in us and equipping us with the ability to provide expertise and support to our new entrepreneurs, our largest employers, and every employer in between.
Attraction & Retention
Throughout 2019, the economic development team has been working on 38 active leads and projects with a total capital investment potential of $66,189,000. These projects have a total payroll potential of $35,484,000.
Year to date, we have 7 landed projects resulting in 127 new jobs with an annual payroll of nearly $2.8 million and a total capital investment of more than $3 million.
We proactively reached out to 35 county businesses to build relationships and provide support, leading to two new expansion projects.
A newly created loan fund has been established to provide critical gap financing to businesses on the Dodge County side of the City of Waupun.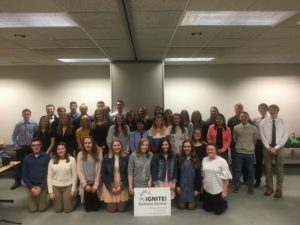 Entrepreneurship & Innovation
Envision Greater Fond du Lac continues to serve as the hub organization of the multi-partner IGNITE! Business Success Network. Of the 50+ entrepreneurs that connected with the network over the past year, Envision Greater Fond du Lac served in the role of coach for 30 clients resulting in one new business.
Students from the Greater Fond du Lac area participated in the 4th Annual Youth Idea Challenge. Three teams won scholarship prizes based on their creative solutions to startup challenges.
Workforce Development
The 11th Annual Project G.R.I.L.L. engaged 124 high school student participants. Of the students involved, 67% indicated they plan to pursue a career in manufacturing or skilled trades.
The brand new Summer Series engaged 120 interns from seven companies, resulting in a 40% increase in positive perceptions of the Greater Fond du Lac area.
The new Business and Education Mixer event engaged 82 area education and business representatives to form meaningful connections for future collaborations.
Over 2,300 7th and 8th grade students participated in Career Connections Academy, one of Wisconsin's largest hands-on career expos.