Coronavirus (or COVID-19) has completely altered our community's way of life over the past month. Schools have closed, students are homeschooling, and Friday Fish Fry's are take-out only. However, one of the major ways that COVID-19 has altered our community is its role in our economic development and workforce.
From March 22-28, nationally there were 6,648,000 unemployment claims. Unemployment claims increased exponentially over the past three weeks, and even for those who are still working, they may be working reduced hours, from a new location, have new job duties, or be struggling with the daily stress and emotional toll of being an essential worker during a public health crisis. If you need to file for unemployment benefits at this time, please visit https://dwd.wisconsin.gov/uiben/. You do not need to complete necessary work searches during the COVID-19 crisis.
I want to preface this report by thanking all of those in our community who have been doing amazing things to keep us safe, healthy, and provided for during this time. Envision Greater Fond du Lac will be featuring positive, uplifting, and innovative stories during this time to keep our spirits lifted and focused on the great things our community is doing to support one another during this crisis.
As a data scientist, it is my job to ensure that our community and businesses are informed so that they can make the best possible decision for themselves to support our economic development. This report aims to describe the current job posting trends in Fond du Lac county to help connect our employers to employees in this time of need.
STATE OF WISCONSIN.
At the state level, Wisconsin is fairing quite well in terms of jobs. Particularly in central/northern Wisconsin, there is a large amount of manufacturing, agriculture, service, healthcare and retail positions which are considered essential during this time. In the past week, WI job postings have dropped 2% and are down 22% from this time at last year (note – this is job postings, not employment rates).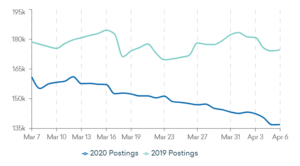 Top industries in Wisconsin that are hiring at this time are administrative, professional/scientific/technical services, health care services, truck transportation, insurance carriers, food service and food and beverage stores, and health and personal care stores. Top occupations posted at this time are truck drivers, registered nurses, retail salespersons, and insurance agents.
FOND DU LAC COUNTY.
The data at the county level is not quite as up to date as the data at the state level, but it is generally consistent. Whereas at the state level I can examine this over the past week, at the county level I have to look at the past month.
What I am seeing at the county level, again, is similar to the state level. We see that over the last 30 days (March 8 – April 6), there has been a slow, steady decline in job postings, and there are about 500 fewer job postings compared to this time last year. Postings are down 17% in the past month.

Top employers in Fond du Lac county hiring over the past month include: Anthem Inc., SSM Health Care Corporation, Brunswick Corporation, USTechForce, Platinum Supplemental Insurance Inc., and Remedy Intelligent Staffing. The top posted occupations include Heavy and Tractor-Trailer Truck Drivers, Registered Nurses, Insurance Sales Agents, Retail Salespersons, Customer Service Representatives, Delivery Service Drivers, and Personal Care Aides.
The top in-demand hard skills at this time include: merchandising, nursing, restaurant operation, auditing, accounting, cash register, packaging and labeling, flatbed truck operation, food safety, and caregiving.
Top in-demand soft skills include: management, customer service, sales, communications, operations, leadership, problem solving, detail oriented, and written communication.
Continue distant socializing, thank an essential employee, and support your local businesses when able.
We're here for you.
Written by Elle Moore, Research Specialist