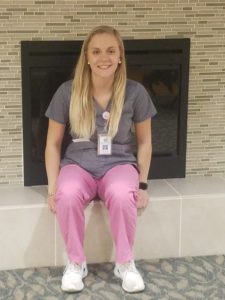 Hometown:  Oakfield, WI
High School:   Oakfield High School
Youth Apprenticeship Pathway and Site:  Healthcare CNA at Harbor Haven Health and Rehabilitation
What has been the biggest surprise about your Youth Apprenticeship?
The biggest surprise for me was how flexible Harbor Haven has been for me considering I'm still in highschool and involved in extracurriculars.
What is your favorite part about participating in the Youth Apprenticeship (YA) Program?
My favorite part of the Youth Apprenticeship program is getting to see many different opportunities that healthcare has to offer. Being able to make money, get high school credits, and get experience to help decide my future is what makes this opportunity so beneficial. Also being able to care for and get to know all of the residents.
What is your favorite subject in school?
Math
When you're not in school or at your YA site, what can we find you doing?
If I'm not working or in school I am usually helping out on our family dairy farm. I also love spending time with my friends and shopping.
If you could give a student that is thinking about YA any advice, what would it be?
If I could give any advice, it would be to take part in the many opportunities that the Youth Apprenticeship program has to offer. If you are unsure if healthcare is the right path for you, then I would definitely become a CNA first. I know for me that being a CNA has helped me know that healthcare is the path that is right for me. Even though the program might seem like a lot of work in the beginning it is well worth it in the end and it helps prepare you for the future.
What are your plans after high school?
I plan on going to become a registered nurse with a Bachelor of Science in Nursing. I am currently undecided where I will be attending for college but hopefully either Marian University or Moraine Park Technical College in FDL.
Benefits of the Youth Apprenticeship Program are multi-fold in that the program helps students prepare for careers while still in high school, but also develops the technical and employability skills that community employers are looking for. For more information on how you can get involved in the program, please contact Lisa McArthur at (920) 921-9500 or lmcarthur@envisiongreaterfdl.com.