The Wisconsin Herd has partnered with BMO to change its name to the "Wisconsin HER" to support women's empowerment for the game on February 3, with tip-off at 7:00 p.m. CST at Oshkosh Arena. The Herd will wear one-of-a-kind "Wisconsin HER" jerseys that will be auctioned off to benefit We EmpowHER. The organization provides women and children with a safe, supportive community where participants are encouraged and empowered to engage in year-round programming, utilize community resources and embrace the best versions of themselves as valued community members.
During the game, the Herd will wear specialty Wisconsin HER jerseys that feature purple silhouettes of women with different hair styles, different facial structures, and different skin colors. The overall jersey and shorts are purple, white, and green to symbolize women's equality. These jerseys will be auctioned off at https://wisconsinher.givesmart.com/ starting now until February 10, 2023 at 12:00 p.m. CST. Fans can also bid on the jerseys at the game on February 3, with proceeds benefiting WeEmpowHER.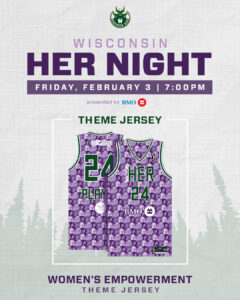 Before the game, the Herd and We EmpowHER will host a free Wisconsin HER day event at Oshkosh Arena from 2:00 p.m. – 5:00 p.m. with on-site registration beginning at 1:45 p.m. and breakout sessions lasting for 45 minutes. The full run of show is below:
WISCONSIN HER DAY PROGRAMMING:
1:45pm-2:00pm: Welcome (On-Court Greeting)
2:00pm-2:45pm: Breakout Session 1
-Health & Wellness Room- Angel Anderson: The REAL thing we're all addicted to
-Family & Relationships Room- Miranda Werkheiser: Re-Envisioning Our Values- Creating your vision for family and removing toxic relationships
-Women in Leadership & Business Room- Ali Starr: Unlearning Everything I am Not
2:45pm-3:00pm: Break
3:00pm-3:45pm: Breakout Session 2
-Health & Wellness Room- Emily Schwartz: How to Maximize the Bookends of Your Day
-Family & Relationships Room- Mary Breuer: Boundaries, the Bedrock of Confidence 
-Women in Leadership & Business Room- Honor Jensen: B.E.C.O.M.I.N.G. – 8 Elements to Thrive While Honoring Your Whole, Authentic Self
3:45pm-4:00pm: Break
4:00pm-4:45pm: Breakout Session 3
-Health & Wellness Room- Sarah Bondar and Ashley Maas- Self Love Habits: Recognizing Self Sabotage and How to Overcome Toxic Coping "Habits"
-Family & Relationships Room- Michelle Buck-Stark- Meet Your Needs!: Renegotiating Your Family, Work & Social Contracts
-Women in Leadership & Business Room- Michelle Madl- with panelists (Teri Tkachuk/Julianna Vanlaanen/Jessica Haessly/Ashley Senk/Colleen Bies) – EmpowHER Hour Panel
4:45pm: Final closing in each room (short We EmpowHER video and thank you)
5:00pm: HER Day Event Ends
6:00pm: Doors open for game
7:00pm: Game- Wisconsin Herd vs Windy City Bulls 
Registration for the free Wisconsin HER day event can be found here but does not include a ticket to the Wisconsin Herd game that night. Tickets for the Wisconsin Herd game can be purchased here.