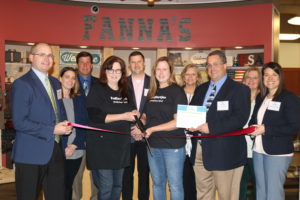 The Ambassador's Club of Envision Greater Fond du Lac recently held a ribbon cutting to commemorate the grand opening of Fanna's Market & Eatery. Located at 1211 Rickmeyer Drive in Fond du Lac, Fanna's Market and Eatery offers breakfast and lunch along with a market featuring unique finds. Their menu features a variety of wraps, paninis, sandwiches and poffertjes – their signature dish.
The restaurant is owned by sisters Chris Koepke and Cathy Spanbauer. Having grown up on Fanna Street in Fond du Lac, the restaurant's name is reminiscent of their childhood home where their pretend restaurant gave them the dream of having their own restaurant one day. The restaurant and market is open 9am to 3pm Monday through Saturday. For more information, visit www.fannasmarket.com.
Pictured left to right: Craig Much, Horicon Bank; Lauren Herlache, Signarama/Flyway Signs; Dave Thiel, Associated Bank; Chris Koepke, Fanna's Market & Eatery; Matt Steinert, Verve, a Credit Union; Cathy Spanbauer, Fanna's Market & Eatery; Joan Pinch, Wisco Hotel Group; Steve Leaman, Horicon Bank; Kim Schmitz, U.S. Bank; and Kimberly Klaetsch, National Exchange Bank & Trust.