Envision Greater Fond du Lac hosted a ribbon cutting with member organization, Stone Oak Coffee Haus, to commemorate their 2nd anniversary.
Inspired by a trip to a coffee shop in Tennessee and driven by a love of coffee, Kim and Kevin Galske opened Stone Oak Coffee Haus in 2019. The name comes from a hand-drawn tree Kim's grandfather drew, combined with the exterior feature of the building (stone).
"This is a dream come true," Kim Galske, said. "When we first saw this house, we thought it would be an ideal location for us. At the time, the property was not for sale. However, when it was, even though it wasn't the "right time", we went forward and purchased it, thus providing us with the opportunity to open this cozy and comfortable space where we hope everyone feels welcome."
 Stone Oak Coffee Haus is located at 347 Winnebago Drive in Fond du Lac. To learn more about Stone Oak Coffee, including menus, events, and shopping, visit them online or on Facebook.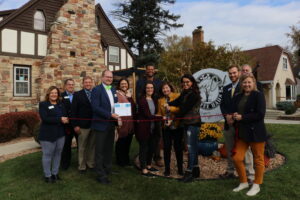 (Back Row) L-R: Steve Leaman (Ambassador), Jason Zellner (Ambassador), Grant Monroe (Ambassador), Mark Heuer (Ambassador). (Front Row) L-R: Kim Schmitz (Ambassador), Craig Much (Ambassador), Crystal Dekker (Envision Greater Fond du Lac), Brittany Leeds (Stone Oak Coffee Haus), Rene'e Leasa (Stone Oak Coffe Haus), Kim Galske (Stone Oak Coffee Haus), Joe Venhuizen (Envision Greater  Fond du Lac), Joan Pinch (Ambassador)