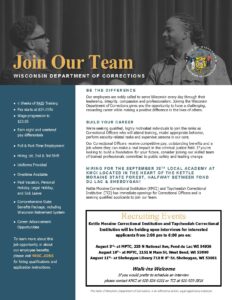 Kettle Moraine Correctional Institution and Taycheedah Correctional Institution will be holding open interviews for interested applicants from 2:00 pm to 6:00 pm on:
August 3rd- at MPTC, 235 N National Ave, Fond du Lac WI 54936
August 10th- at MPTC, 2151 N Main St, West Bend, WI 53090
August 11th- at Sheboygan Library 710 N 8th St. Sheboygan, WI 53081
Our employees are nobly called to serve Wisconsin every day through their leadership, integrity, compassion and professionalism. Joining the Wisconsin Department of Corrections gives you the opportunity to have a challenging, rewarding career while making a positive difference in the lives of others.
We're seeking qualified, highly motivated individuals to join the ranks as Correctional Officers who will attend training, model appropriate behavior, perform security-related tasks and supervise persons in our care.
Our Correctional Officers receive competitive pay, outstanding benefits and a job where they can make a real impact in the criminal justice field. If you're looking to build a foundation for your future, consider joining our skilled team of trained professionals committed to public safety and leading change.
Kettle Moraine Correctional Institution (KMCI) and Taycheedah Correctional Institution (TCI) has immediate openings for Correctional Officers and is seeking qualified applicants to join our team.
Walk-ins Welcome. If you would prefer to schedule an interview, please contact KMCI at 920-526-9201 or TCI at 920-929-3816. For more information, please see image with this ad.