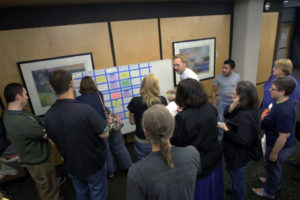 IdeaCamp, Fond du Lac's "unconference," will return on Saturday, September 21, 2019. This year's event will be held a new venue, the Fond du Lac Public Library, from 9 a.m. to 4:00 p.m. The event is organized by previous attendees, organizers, and IGNITE! Business Success – with operational support from Envision Greater Fond du Lac.
So how exactly does a participant-led conference work? 
Participants interested in presenting a topic add their name and their topic to an open spot on the schedule, choosing a session time and a room. Everyone checks out the schedule and attends the sessions of their choosing.
Can't stay all day or can't arrive right away?
No problem; come when you can, stay as long as you like. You set your schedule for the day and are also not required to present if you are simply interested in gathering knowledge on any number of topics that may be presented.
Casual, collaborative and unlike any other event out there, IdeaCamp is the perfect opportunity to connect with your community, your neighbors and yourself. It's simple and fun with past events including sessions on guerilla marketing, playing a ukulele, placemaking initiatives, how to pitch a product, beekeeping, and everything in between.
Registration is open for this free event and is appreciated for planning purposes. Food is provided during lunch to attendees. Register by visiting www.ignitefdlc.com or www.envisiongreaterfdl.com.