YP Week – Virtual Cooking Class Event
October 18 @ 3:00 pm

-

5:00 pm

Free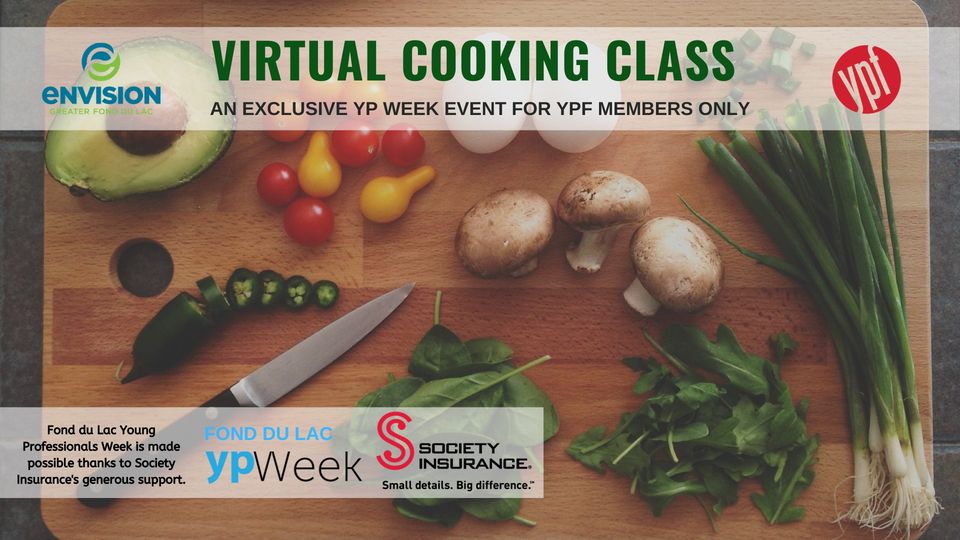 Join Agnesian HealthCare's sous chef, Mike Wetzel, as he delivers a virtual cooking demonstration of two delicious fall-themed dishes.
Enjoy learning how to prepare and present Butternut Squash and Sage Bisque and an Apple, Cranberry, Pecan Compote baked in a Cinnamon Apple. Each YP that registers will select (2) or (4) servings to register for.
YP Week Committee members will purchase and provide all ingredients from the Downtown Fond du Lac Farmers Market. Registrants can pick-up their food items at Envision Greater Fond du Lac on Saturday, October 17 from 12 p.m. to 2 p.m. Delivery is available (for a $5 donation to the Fondy Food Pantry) for YPs that live within a 15 mile radius from the Envision Greater Fond du Lac office. Cost is FREE for registrants, unless food delivery option is selected.
Registration will be capped at 100 servings, so REGISTER EARLY!! This event is ONLY open to current Young Professionals of Fond du Lac in good standing.
All ingredients provided.
Butternut Squash and Sage Bisque
INGREDIENTS
2 tablespoons pre-minced garlic
2 tablespoons butter
1 1/2 cups chopped onions
1 cup chopped carrots
1 pound butternut squash, peeled, seeded, cut into 1-inch pieces
2 1/2 cups unsalted chicken stock
3 tablespoons chopped fresh sage
1/2 cup plus 1 tablespoon heavy whipping cream
PREPARATION
Melt butter in heavy large pot over medium heat. Add onions, carrots, garlic, and squash; sauté until onions are beginning to brown about 7 minutes.
Add stock 2 tablespoons sage. Bring to boil. Reduce heat; simmer uncovered until squash is tender, about 15 to 20 minutes.
Working in batches, purée soup in blender until smooth. Return to pot.
Stir in 1/2 cup cream. Season to taste with salt and white pepper. Transfer soup to bowls
Drizzle with remaining 1 tablespoon cream.
Sprinkle with remaining 1 tablespoon sage.
Serve immediately
Apple Pie Baked Apples
INGREDIENTS
½ tsp. ground cinnamon
½ tsp. pure vanilla extract
4 large apples (any variety)
¼ cup walnuts, chopped
½ cup dried cranberries
3 tbsp. honey
2 cinnamon sticks
PREPARATION
Preheat oven to 375 F.
Cut off the top of 2 of the apples and set aside. With a paring knife, carefully remove the stem. Remove the inside of each apple with a spoon, making sure not to break the peel.
Remove the skin from the remaining two apples and dice. In a bowl, combine the diced apples with the walnuts, cinnamon, vanilla and honey.
Spoon the apple mixture into each hollow apple, place a top on each apple and insert a cinnamon stick.
Place the stuffed apples in small roasting pan and add water to cover the bottom of the pan.
Cover pan with foil and bake for 20 minutes. Remove foil and bake for an additional 15 to 20 minutes.
Related Events