StartUp Fond du Lac: Use You Tube to Grow your Business
November 13, 2020 @ 9:00 am

-

10:00 am

Free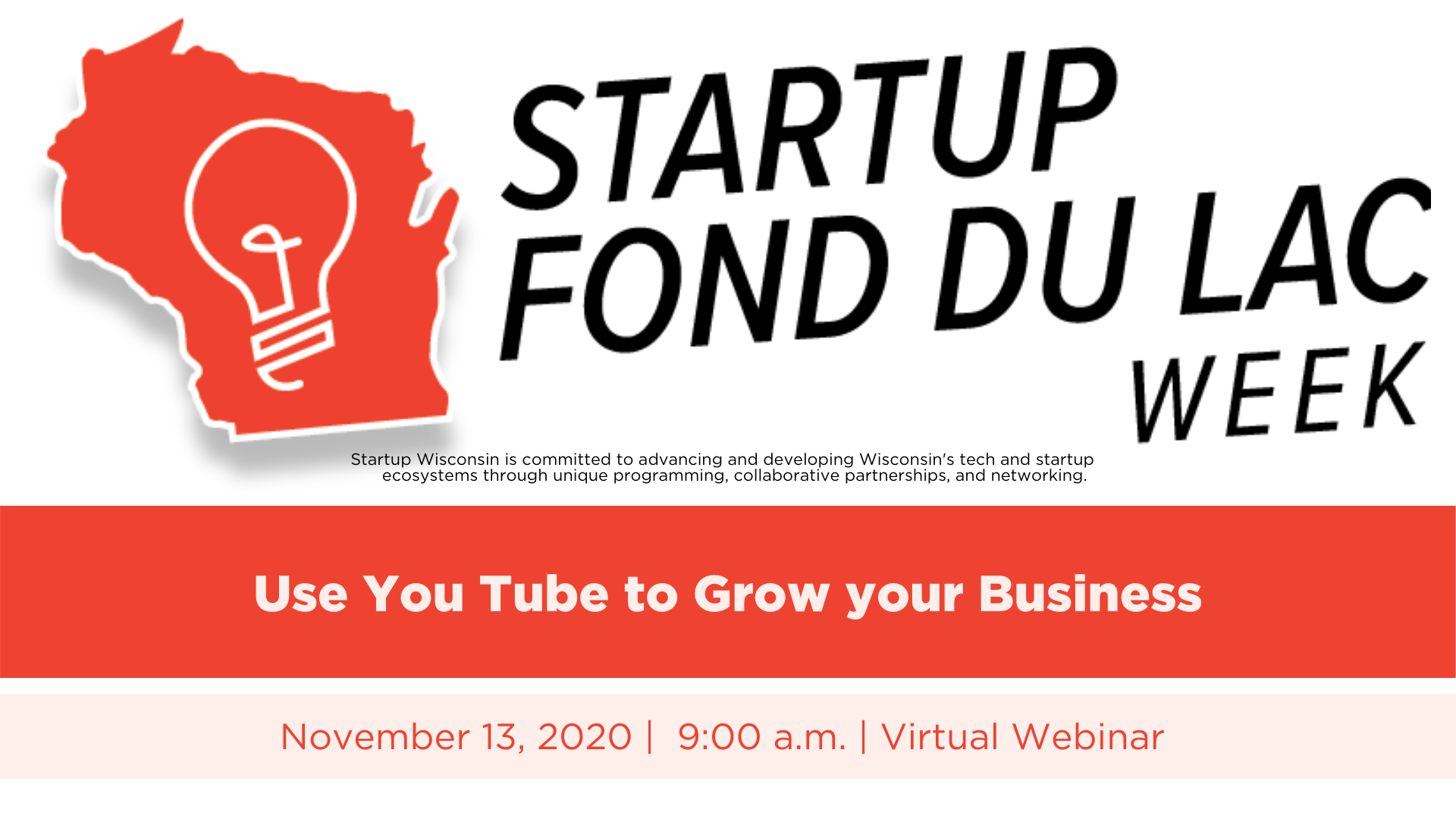 In this workshop we'll discuss best practices for:
– Understanding different video formats
– How to setup a YouTube channel
– Making good creative, and how to target and measure the results
Presenter/Panel bios:
Dave Meyer, President, BizzyWeb
Dave Meyer is president of BizzyWeb, a growth marketing agency located in Champlin, MN. As a Speaker-Trainer for Google's Grow with Google program and a HubSpot Certified Trainer, Dave Meyer travels the country showing thousands of business owners and marketers how to grow their business online. Dave also speaks on B2B sales and marketing topics and has presented for Digital Summit in Minneapolis, Austin, Chicago, Phoenix, Seattle, Detroit, Kansas City and Raleigh. Other favorite events have included Social Media Breakfasts in Minneapolis and an "Unconference" breakout at IABC's World Conference in Toronto. As a part of Constant Contact's Authorized Local Expert program, Dave delivered more than 100 seminars all over the Midwest and was one of their top speakers in the program. Dave was named Entrepreneur of the Year in 2016 and BizzyWeb was honored as Small Business of the Year by the TwinWest Chamber of Commerce.
Cheryl Muskus, Chair, Fox Cities SCORE
Cheryl's area of expertise is providing solutions to the challenges that face small business owners each day. With more than 25 years of experience, Cheryl's strong financial background in financial analysis allows her to adeptly assist clients in pricing products and services to provide high value to the customer and healthy business profits.
An expert in computerized accounting software systems, advanced services provided by Cheryl include:
Consultation on Accounting Software Acquisition
Construction Management
Job Costing and Estimating
Financial Analysis
Technology Consulting
Her background includes chief financial officer of a wholesale food distributor, cost accountant for a major gum manufacturer in Chicago, and sub-contractor for a variety of CPA firms in the financial consulting areas of analysis, job costing, and overhead recovery.
A talented presenter, Cheryl has developed the seminar "Taking the Mystery out of Bidding and Estimating," which she routinely offers to national small business development centers and national trade associations.
Active in industry-specific organizations, Cheryl has been highly involved in legislative issues and governmental negotiations directed toward fair and equitable changes for the client industries she represents.
She is the recipient of the 2000 Accountant Advocate of the Year Award given by the Small Business Administration.
Event flyer: Startup FDL 2020 WWBIC calendar of events 2020 (4)