Business Connection: Top Shelf Bar & Grille
August 18 @ 5:00 pm

-

7:00 pm

$5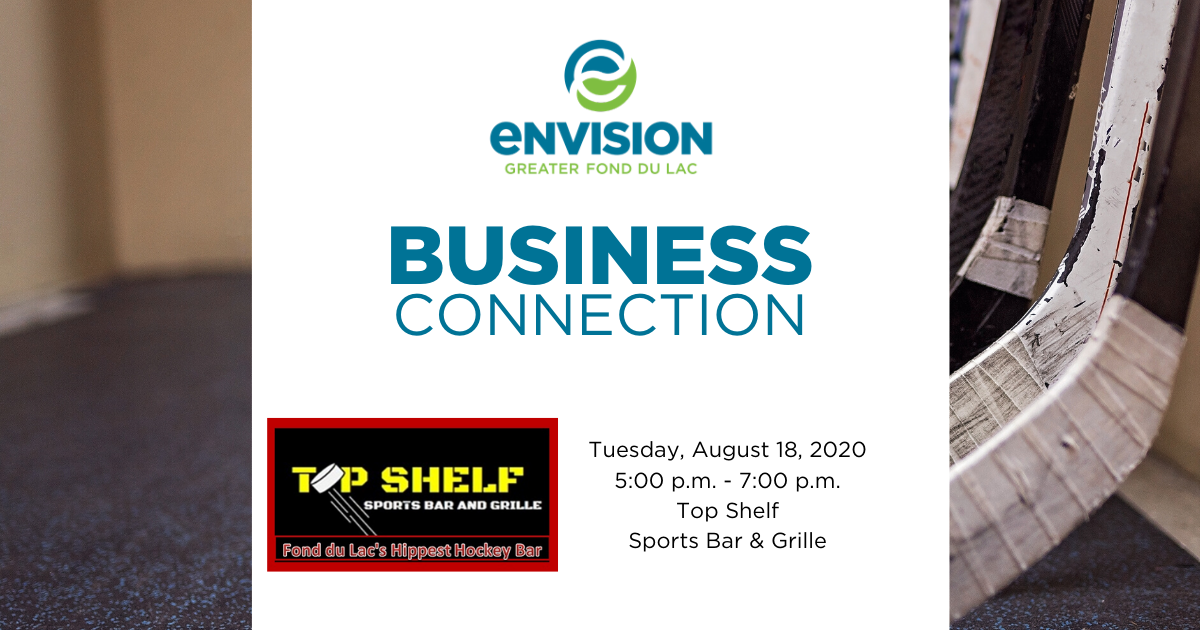 Fond du Lac County's premier business networking event! This month our Business Connection is hosted by one of downtown Fond du Lac's newest dining experiences- Top Shelf Sports Bar and Grille! Bring your business cards for a chance to win door prizes. Admission includes hors d'oeuvres and 2 beverages provided by Top Shelf!
About our host business:
Craig and Kari Koenigs owners of Top Shelf Sports Bar & Grille and Downtown Deli, Market, Café.
Craig and Kari both grew up in Fond du Lac and have 3 boys…Tony (17), Johnathan (15) and Thomas (13).   Craig is a Computer Programmer at Miron Construction and Kari handles the day to day activities of Top Shelf & Downtown Deli, in addition to operating a credit card processing company, "Card Concepts Merchant Services – FdL."
In 2011, Craig and Kari formed "C&K Elite Properties" and purchased the Combined Building at 104 S. Main Street to house Kari's merchant service business.  This building also had businesses that rented out office space, which was a great supplemental income and had 17 businesses within.  Within the first two years that increased to 40 businesses and housed a "GROW Space" that was dedicated to help new businesses and entrepreneurs get started.
So how did their business evolve into a restaurant and deli?  "Kari's passion for food of course."   Kari is a Veteran in the Army Reserves with training as a Physical Therapist Tech and a Medic.  Although unrelated to food, she was always asked to cook and create meals for the troops at all of the gatherings.  It took a long time to finally follow her dreams in opening up her first restaurant, but she finally set out to do this in 2014.
Kari was always inspired by New York Delis so she spent several months in the Big Apple and worked with Deli Provisionarys and restaurant owners.   Once back she opened up her first Deli and named it, "Downtown Deli To Go" at 74 S. Main Street in the Woolworth Bldg.  Within one year, Craig and Kari knew that this business had exceeded its expectations and needed to expand thus forming another business, "C&K Enterprises – FdL" DBA Downtown Deli, Market, Café & Top Shelf Sports Bar & Grille."
This new adventure would take at least two years to accomplish as the building was completely renovated and constructed a large commercial kitchen, deli, restaurant/bar, private events room and a beautiful outdoor patio and bar where they feature Free Live Music every Friday and Saturday night along with other frequent entertainment such as live comedy, trivia, karaoke, hypnotist shows, murder mystery dinner shows, etc.
So how did Top Shelf get its name?  First initial thought would be Top Shelf drinks…Well, even though it has a stellar selection of bourbons and liquor, "Top Shelf" is actually a hockey term meaning "A goal that goes in the top area above the goalie's shoulders and below the crossbar."  As you guessed it, the Koenigs family love their hockey so what better way to showcase NHL and local team jerseys.
Related Events