Thelma Sadoff Center of the Arts (THELMA) announced bidding begins Monday, October 26 for an auction to raise funds for the arts.
The auction will culminate following the Virtual Telethon – THELMA Style, an event supplanting the in-person annual fundraiser Windy Dinner THELMA Style October 30.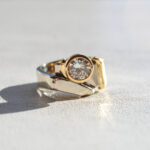 Auction items may be viewed at onecau.se/Thelma. You may also register at this location to donate, bid on auction items, and watch all the fun of the telethon at 7 pm October 30. The telethon will be a mix of live and pre-recorded action. Registration for the event is free and open to all.
"We are thrilled with all the contributions and humbled by the support we have received so far," said Jacqui Corsi, THELMA's Executive Director. This year's auction focuses solely on the arts, she added.
A culinary arts experience includes an evening for four with the chef at this Neapolitan pizzeria – San Giorgio in Milwaukee, and a stay at the arts hotel – Saint Kate. This item is sponsored by Grande Cheese.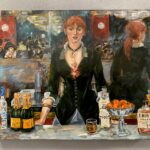 There are several opportunities to support visual arts with original works in the auction by Amy Jarvis, Mel Kolstad, and Kimberly Nysse. The artists are sponsored by von Briesen & Roper. The auction also includes a stunning design by Ron Emanuel of The Goldsmith. This one-carat diamond, with white and yellow gold ring is a true original.
Performing arts is represented in the auction with a backyard bash featuring the music of Kip Jones (sponsored by Culver's Restaurants), a private party at Brick House with music by Record Entertainment (sponsored by Eric Stone and Record Entertainment and the Brick House), and a walk-on role for the next production at THELMA of Rocky Horror Show (LIVE) (sponsored by Bekki Kuber).
Literary arts has a place in the auction with an original poem written by the award-winning poet Mary Wehner. The winning bidder chooses the topic. THELMA staff will create a Broadside of the poem and then have it printed and framed for your wall. This item is sponsored by Dick and Mary Wehner.
In a collaboration of literary and visual arts, the next item recognizes a special woman in the winning bidder's life. She will be photographed, and her story told just as the Illuminating Women art exhibition at THELMA earlier this year. This item is sponsored by Laura Schneider and Juliane Troicki.
Also in the auction is the art of the hunt – a 25 pheasant hunt for four followed by lunch and drinks at Red Cabin at Green Acres, sponsored by Dwayne Clark and Christine Schiek, Red Cabin at Green Acres, and Hunters Point Hunt Club.
Design is represented in the auction with a Wood's monthly floral arrangement for the next year, donated by Leb Insurance and Wood's Floral. Another winning bidder may spruce up home or office with a stunning leather executive chair donated by Sally Herre Decorating Den Interiors.
Two arts education opportunities including one for kids – a comic book workshop sponsored by Laura Lavey, and the other for adults – an abstract painting class with wine sponsored by THELMA.
Prior to the conclusion of the auction, the telethon includes live music with Eva and the Swizzle Sticks, plus a mix of live action and pre-recorded videos with some of THELMA's favorite artists, sponsors and supporters including a performance by a special guest star.
"We encourage you to purchase dinner curbside from one of our supporting restaurants and then tune in when you get home,"Corsi said.
THELMA will be working with local restaurants to provide curbside pickup as well as the event's customary caterer Shully's to offer a special meal for attendees. Details will be released soon.
THELMA is located at 51 Sheboygan St., in the heart of Downtown Fond du Lac's Arts and Entertainment District. THELMA is a member-based, privately funded non-profit dedicated to providing arts experiences not readily available in the area. Intimate concerts in the Great Hall, street concerts with major performers, indoor films, and art from world-renowned artists are available at THELMA. THELMA also offers a stunning backdrop for weddings, meetings, and all social and corporate gatherings.
Learn more about THELMA at thelmaarts.org, Facebook, Instagram, Twitter, and LinkedIn.
Check out our new podcast on Spotify! Search Artful Audio.