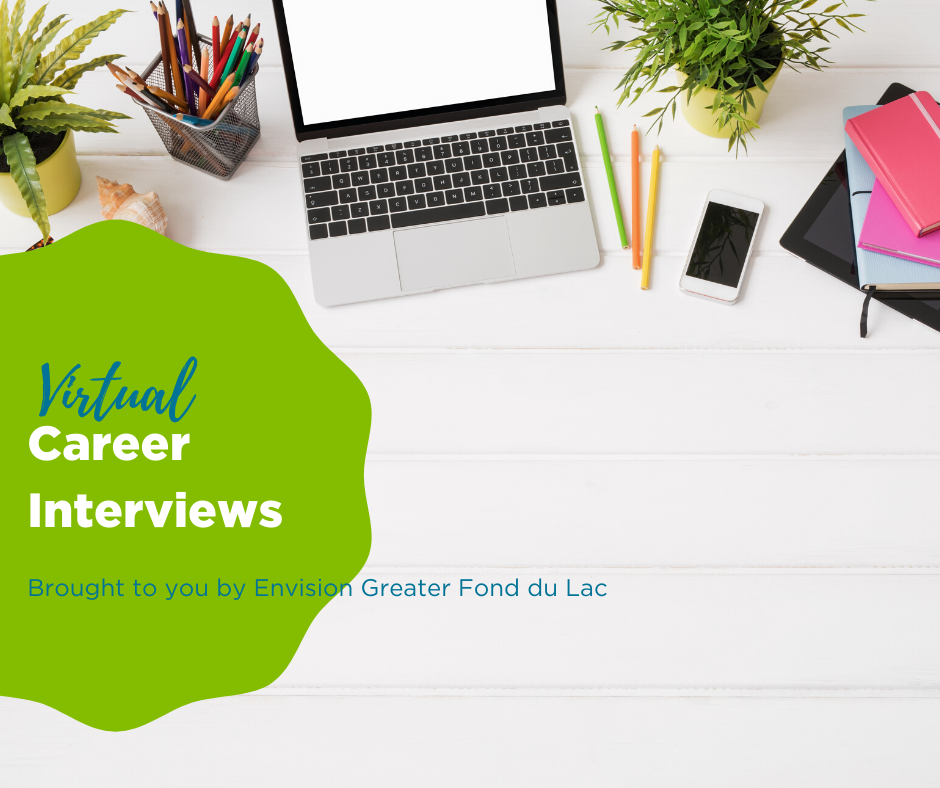 Virtual Career Interviews
High School students are encouraged to participate in our Virtual Career Interviews to connect with career professionals within the greater Fond du Lac area. Students will learn about the professional skills necessary in the workplace and how they are used in specific career fields.
Most sessions begin at 1:00 p.m. Pre-registration is required.
Students can register for as many sessions as they want. Registration is on a first come, first served basis. All sessions are conducted via Zoom and will be recorded.
Tuesday, May 12 @ 1:00 p.m. – DJ Kloida, Youth Apprenticeship Coordinator – Local 400 Pipe Trades


Topic: Careers in the pipe trades: steamfitter, fabrication, plumbing, HVAC

Wednesday, May 13 @ 1:00 p.m. – Terry Owens, Field Director, CD Smith Construction 
Topic: Construction field operations: leadman, foreman, superintendent

Thursday, May 14 @ 1:00 p.m. – Steve Zurawski, Human Resources Manager – Mercury Marine 
Topic: Engineering, technical skilled trades positions

Monday, May 18 @ 1:00 p.m. Dusty Krikau, Director of Mission Advancement –  Congregation of Sisters of St. Agnes 
Topic: Communications and marketing career

Tuesday, May 19 @ 1:00 p.m. – Jens Jorgensen, Store Manager – US Cellular 
Topic: Retail wireless sales and career opportunities

Wednesday, May 20 @ 10:00 a.m. – Liz Morrell, Executive, Director, The Arc Fond du Lac 
Topic: Nonprofit management & career options in a large human services agency (i.e. direct support professionals, social work, etc.)

Wednesday, May 20 @ 1:00 p.m. – Cyndi Nienhaus, Sister/Professor – Congregation of Sisters of St. Agnes/ Marian University 
Topic: Teaching at a college level /religious life as a sister

Thursday, May 21 @ 10:00 a.m. – DuWayne Schwartz, Fire Inspector – Neenah-Menasha Fire Department 
Topic: Career as a firefighter

Thursday, May 21 @ 1:00 p.m. – Emily Trusk, Community Engagement Coordinator – THELMA Sadoff Center for The Arts 
Topic: Community engagement and development

Tuesday, May 26 @ 1:00 p.m. – Reine Schneider, Steel Shop Department Lead – Elkay Interior Systems 
Topic: Welding, TIG/MIG, robotic welder, and saw operator

Wednesday, May 27 @ 1:00 p.m.  – Curt Bauer, Business Representative – International Brotherhood of Electrical Workers, Local 494 
Topic: Careers in the electrical field

Thursday, May 28 @ 1:00 p.m. – Seng Vang, HR Coordinator – Elkay Interior Systems 
Topic: Manufacturing in woodworking, assembly, upholstery and warehouse
Register Now!