POSTPONED! Leading Imperfectly with James T. Robilotta
March 27, 2020 @ 8:00 am

-

9:30 am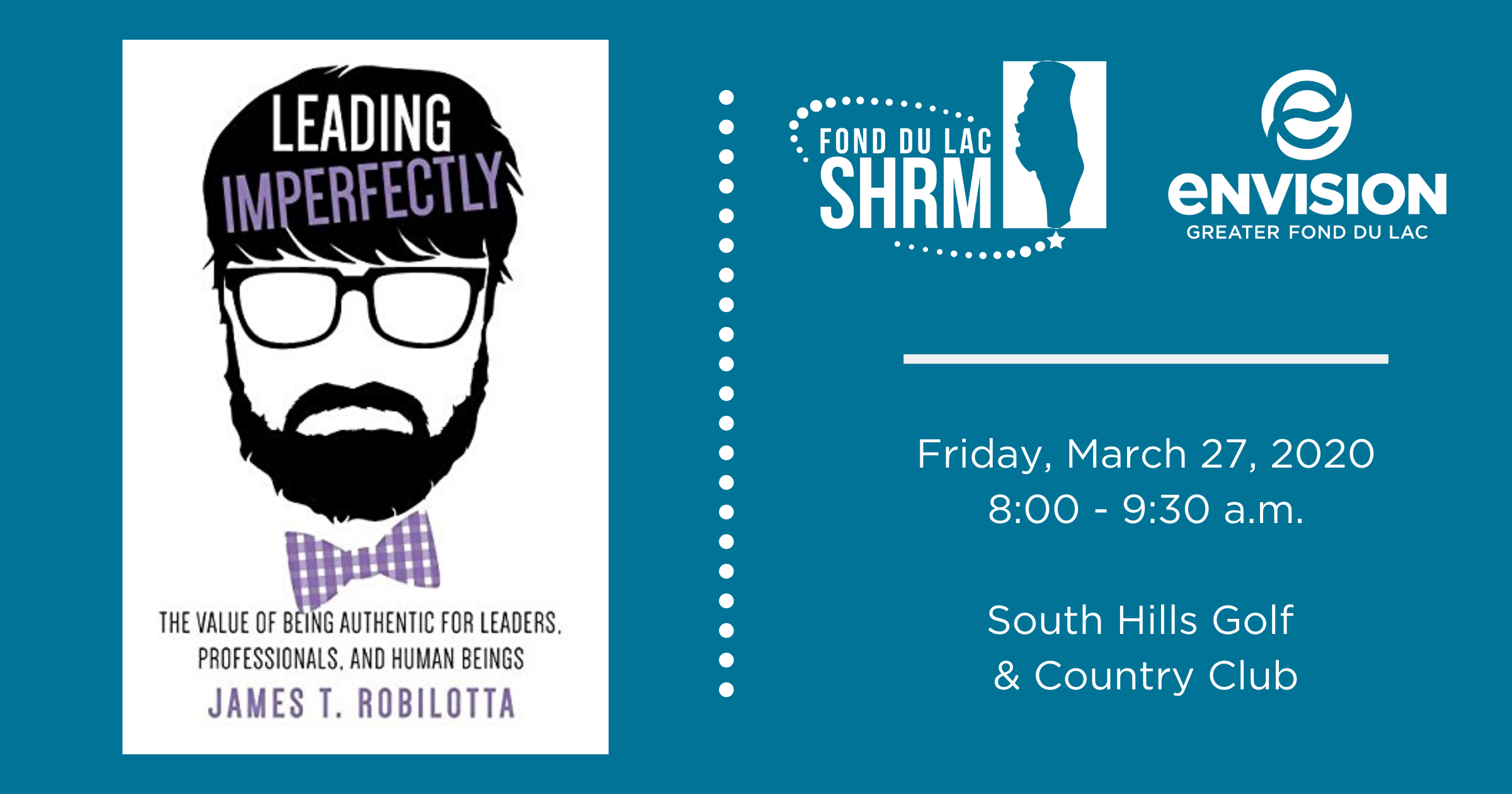 In light of the most recent information surrounding COVID-19 (Corona Virus), Envision Greater Fond du Lac and the Fond du Lac SHRM group are exercising prudence and caution, and have made the decision to postpone Leading Imperfectly with James T. Robilotta. We will continue to monitor this situation and update you with future information and/or a new date announcement. We apologize for any inconvenience this may cause and we look forward to rescheduling this exciting event in the near future once we better understand the situation. Thank you for understanding. 
Rather than take the same, tired approach to leadership development, this session gets personal. This deep but hysterical speech will leave each individual on your team feeling introspective about the person they show to others. It demonstrates how authenticity inspires open communication, forms tighter bonds, and causes your teams to be more engaged.
1. Learn the definition and application of "Authentic Leadership" and self-reflect to identify concrete opportunities to build authenticity within relationships and communication.
2. Identify tangible ways to improve on HR core competencies including: influence, integrity, courage, and feedback.
3. Discover the importance of being a leader and partner who is purposeful, empowering, real, and moral.
About the Presenter
After 15 years of building, training, supervising, and evaluating teams, James decided to curate what he learned and take it on the road as a professional speaker. He wrote and published, Leading Imperfectly: The value of being authentic for leaders, professionals, and human beings, and now spends his days helping organizations and teams around the country solve problems, think critically, and achieve their goals.
James' background in improv and stand up comedy affords him the opportunity to use humor to connect with his audience in a unique and powerful way. Rapport comes quickly, and then he's able to dive into conversations about trust, courageous feedback, teamwork, mutual respect, leading through resilience, and more.
As a speaker and as a coach, James' goal is to create a safe space for growth and to provide his audience with tangible tools to improve their work and improve their lives.
Location: South Hills Golf & Country Club
(1175 Fond du Lac Avenue, Fond du Lac)
Time: 8:00 a.m. – 9:30 a.m.
Cost: $20 for FDL SHRM and YPF members; $25 general admission